Aimtec releases a new series of cost effective switching regulators that targets applications with wide input voltages. Operating at efficiency rates as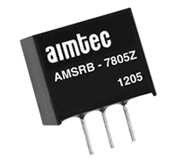 high as 94%, the new AMSRB-78-Z series of non-isolated step down DC/DC converters are pin-to-pin replacements to legacy linear regulators that consume much more valuable PCB space, which is why switching regulators are one of fastest growing segments in low power DC/DC converters market.
The AMSRB-78-Z series delivers up to 7.5W of power, with at maximum output currents of 500mA at high efficiency of up to 94%, and supports wide input ranges from 4.5VDC to 28VDC. Emerging and existing applications striving to meeting new energy efficiency standards will also benefit from important features such as:
Continuous Short Circuit Protection, with Auto Recovery
Operating temperature range of -40°C to + 85°C (with derating above 70°C or 65°C on 12V and 15V models)
High MTBF with expected lifetime of > 4,000,000 hours
Free air convection cooling, no heat sink is required
Extra low no load current
Highly regulated outputs of 3.3, 5, 12, or 15VDC
Designed in a compact, SIP3 packages (11.68 x 9.65 x 7.50mm), AMSRB-78-Z is pin compatible to the TO-220 package for low profile circuit implementations such as portable power and standby-power applications.
Samples of Aimtec's AMSRB-78-Z series of DC-DC switching regulator converters can be ordered immediately from any of Aimtec's global network of Franchised Distributors.