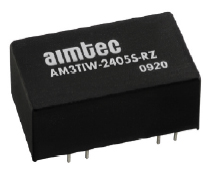 April 8, 2014 – Montreal, Canada – Aimtec announces a new AM3TI-RZ and AM3TIW-RZ series 3 Watt DC to DC converters. These converters are feature-rich, with continuous short circuit protection, over load protection (OLP), under voltage lock out, and soft start. It also has internal filter circuitry suitable for EMI which meets EN55022 Class A. Offered in single or dual output models, and input ranges of wide 2:1 (9-18, 18-36, 36-75Vdc) or ultra wide 4:1 (9-36, 18-75Vdc) by series, in DIP24 package and isolation ranges of 1500 or 3000 VDC.

This new series is developed for control and measurement systems where high precision and stability is paramount.

Samples are available from stock and can be ordered immediately from any of Aimtec's global network of franchised distributors. Visit www.aimtec.com for more product information or to locate your nearest Distributor.

Aimtec is headquartered in Montreal, Canada with offices in Europe and Asia. Aimtec is involved in the research and development of modular switching power supplies. Its product portfolio includes modular AC-DC and DC-DC switching power converters and LED drivers.
# # #